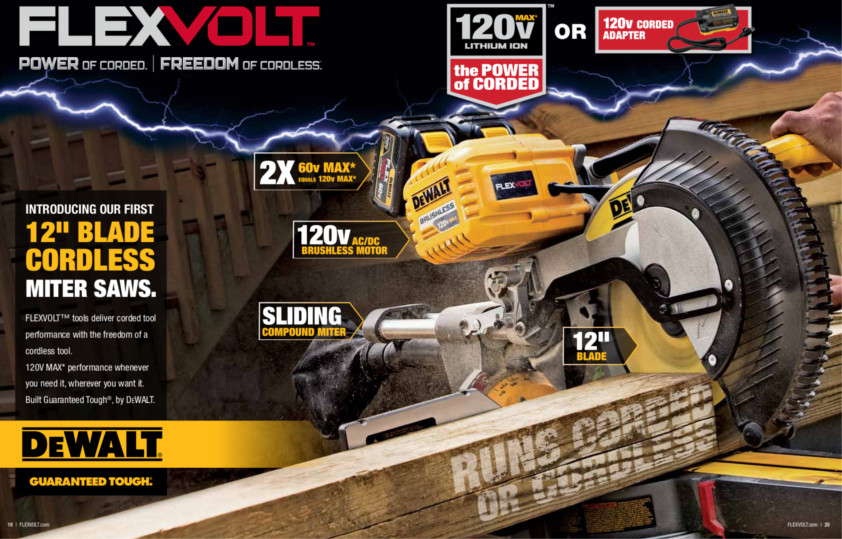 DeWalt introduces the FLEXVOLT™ battery platform.
The world's first battery that automatically changes voltage when you change tools.
The FLEXVOLT™ battery senses what type of tool it is on, becoming a 20V battery when put on a 20V MAX tool, a 60V battery on a 60V tool and combining with another 60V Max battery to deliver 120V on a 120V tool.
20V MAX tools draw 20V from the 60V FLEXVOLT™ battery with much longer runtime - 4X the runtime of a DeWalt 20V MAX compact battery.
The FLEXVOLT™ is backwards compatible with all DeWalt 20V MAX tools and chargers.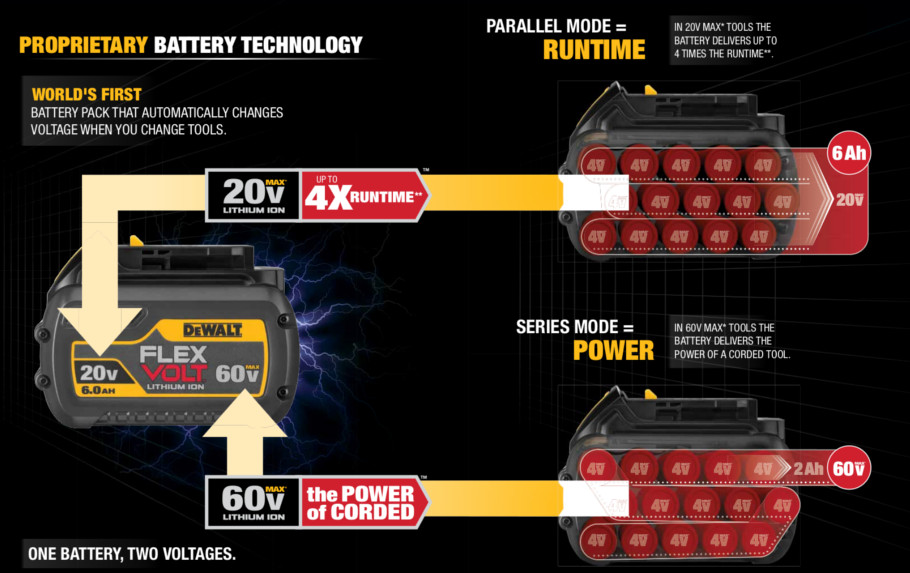 DeWalt FLEXVOLT™ DCB606 Battery Specifications
Voltage
20V/60V MAX
Capacity in 60V Tools

2.0 Ah

Capacity in 20V Tools

6.0 Ah

Charge Time with Fast Charger
60 minutes
Cell Chemistry
Lithium-Ion
Fuel Gauge
Built-in
Weight
2.3 lbs
DeWalt FLEXVOLT™ DCB118 Fast Charger Specifications
Supported Voltage
20V/60V MAX
Fan Cooling
Yes
Charge Time
60 minutes
Battery Chemistry
Lithium-Ion
Hot/Cold Pack Detection
Yes
Weight
1.5 lbs
DeWalt FLEXVOLT™ Platform Comparisons
Part no.
Each Cell
20V MAX
60V MAX
120V MAX
No. of  battery cells

1

5
15
2 x 15 = 30
Maximum initial battery voltage (measured without a workload)

4

20
60
120
Nominal voltage

3.6

18
54
108
Plus DeWalt introduces new lines of 60V MAX and 120V MAX brushless tools to maximize the potential of the the new FLEXVOLT™.
DCS575 60V MAX 7-1/4" Circular Saw with Brake - up to 339 cuts per charge in 2x4
DCD460 60V MAX 1/2" VSR Stud & Joist Drill - drills up to 138 2-9/16" holes in 2x10 SPF material on one charge
DCS7485 60V MAX 8-1/4" Table Saw - up to 302 linear feet per charge in 3/4" OSB
DCS388 60V MAX Reciprocating Saw - up to 150 cuts per charge in 2x4
DCG414 60V MAX 4-1/2" - 6" Grinder with Kickback Brake - up to 126 cuts per charge in 1/2 Rebar
DHS790 120V MAX 12" Cordless/Corded Sliding Miter Saw - up to 289 cuts per charge in 3-1/4" base molding
DeWalt also introduces new 20V MAX tools specifically designed for use with FLEXVOLT™ batteries.
DCR070 Corded/20V MAX Cordless Bluetooth LED Large Area Light with Built-in Battery Charger
DCR025 Corded/12V MAX/ 20V MAX Cordless Jobsite Bluetooth Radio Charger
DCK299D1T1 20V MAX Hammerdrill / Impact Driver Combo Kit - up to 159 holes in 2x10 SPF with 2-9/16" self-feed bit
It will be very interesting to see how the FLEXVOLT™ platform stacks up against the Milwaukee and Makita 18V platforms that are being used to power their larger power drawing tools such as miter saws, circular saws and grinders.
DeWalt holds patents on the FLEXVOLT™ which could prevent competitors from copying the technology directly.