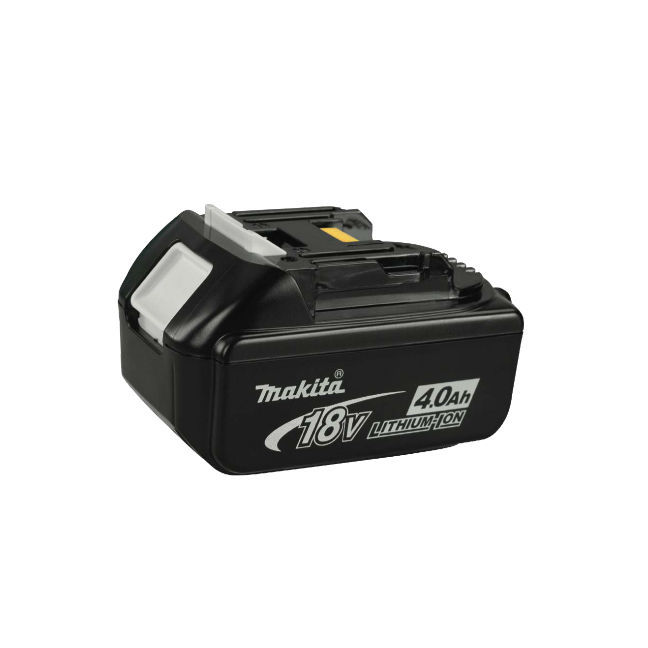 Makita's 4.0Ah battery has arrived
Same weight and power, lasts longer
The BL1840 18 volt 4.0 amp hour lithium ion battery weighs the same as their 18V 3.0Ah battery and delivers the same power, but lasts longer, taking over 2,000 charges.
Fast charging
Makita says the new battery recharges in 36 minutes with existing DC18RC and DC18RA Makita chargers – no need to buy a new charger.
Compatibility advantage
The new battery is compatible with over 100 tools in the existing Makita tool line up. If you already have Makita tools, check the bottom of the tool where you slide on the battery. If the connector base is yellow (with or without a STAR) or black with a STAR the tool will run on the new 4.0 Ah battery. Tools with a black connector that does not have a STAR will not run with the new battery
Memory chip built in to battery
The new battery has a built-in memory chip that communicates with the charger's CPU. This intelligent charging technology allows the charger to recall the battery's charging history, analyse it's condition and usage, then charge the battery accordingly.
Electronic chip embedded in Makita tools
All Makita power tools with a connector bearing a STAR (whether the connector is yellow or black) have a chip fitted in them that monitors the performance of the tool – how hard it's working and how it's responding – and relays this to the battery to make sure that enough power reaches the motor. This protects the motor from drawing more power than the battery can deliver. Battery cells are protected from damage that makes them inefficient at holding a charge which reduces runtime – batteries spend less time on the charger and tools spend more time in your hand.
Battery protection system
The BL1840 incorporates the Makita battery protection system that delivers over-discharge, temperature and current protection that improves battery performance, life cycle and overall battery life. But this applies only to with tools marked with a STAR.
Intelligent system
Putting all these intelligent features together makes the new Makita 18V 4.0Ah Li-Ion battery more efficient to deliver longer tool running time and longer battery life.
Summarizing, the new battery features Lithium Ion technology, long runtime/battery life, takes over 2,000 charges, plenty of power, same weight as 3.0Ah battery, re-charges in just 36 minutes with Makita chargers and fits all Makita tools with 'STAR' and/or yellow connector.  For more information on the 4.0 Ah BL1840 visit our online store.