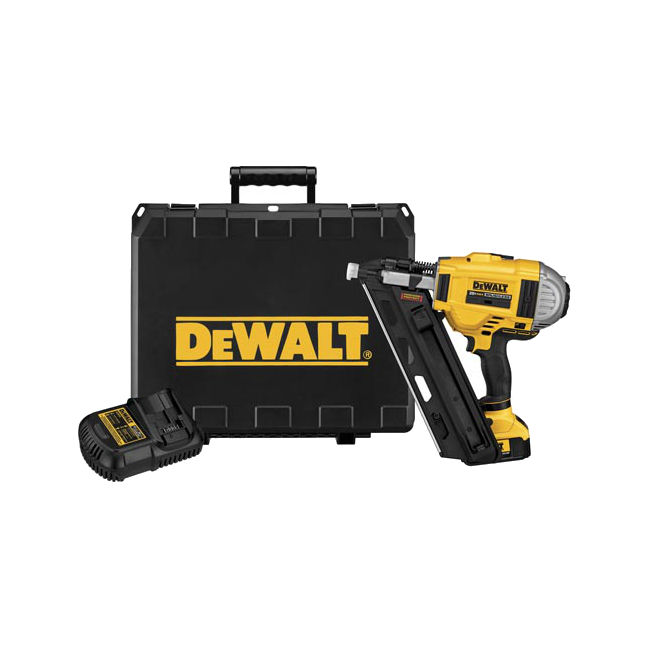 Dewalts new DCN690M1 Spiker looks like it will be a winner
Brushless motor delivers more power in a smaller package and more work on each battery charge.
The large turning knob makes for easy tool-free depth adjustments.
Profiled nose piece makes the nailer less likely to slip out of position, especially handy when toe-nailing.
Shoots at a rate of about 2 nails/second in rapid fire bump mode.
Magazine holds 55 nails.
LED fault light indicates low battery power and motor stalls.
Motor stalls that prevent the driver blade from returning to top position and prevent nails from sliding into the nose are easy to fix with stall lever located on the front of the nailer.
20V Max – 4.0Ah Li-ion battery (Only 1 Battery some in the kit) has a 3 LED fuel gauge to let you know how much charge is left in the battery.
Low noise, low recoil and vibration, no storage or combustible gases, no toxic fumes or chemicals.
New for 2014: Dewalt has launched the DCN692 cordless nailer with Dual Speed Settings
The primary improvement over the older DCN690 is that the DCN692 features two user-selectable speed settings. Speed Setting 1 is for driving shorter 2″ to 3″ nails with the benefits of lower vibration (lower operator fatigue), faster nail driving and more nails fired per battery charge. Speed Setting 2 delivers more power for driving longer 3-1/4″ and 3-1/2″ nails. Dewalt says that the Dual Speed Settings deliver the speed and power to drive nails consistently, similar to pneumatic nailers.
What's to like
The DCN690M1 is battery powered only – not a gas and electric hybrid. This means no gas cartridges to store, no combustible gases, no toxic fumes or chemicals.   Cost savings Dewalt electric versus gas/electric hybrids should run at about the cost of 1 gas cartridge per 1000 nails fired.  We had a Paslode nailer in the shop, so we did a side by side comparison. The Dewalt was quieter firing with noticeably less snap than the Paslode when nails are driven. Made us wonder if the nails were being driven completely. They were. We just need to get used to the quieter sound. No difference in driving power between the two nailers. At about 9 lbs the DCN690 weighs slightly more than the Paslode cordless, but is well balanced and easy to handle. The DCN690 fires the same nails as the Paslode and Senco nailers, 30-34° paper collated, from 2″ up to 3 1/2″.  With a height of 13.75″, this Dewalt nailer is compact enough to fit easily between 16″ center studs.
What's to not like
Only 1 battery. Not sure what Dewalt was thinking here. Expect users to let them know about it. Have to use an allen wrench to unfasten the nose from the magazine and drop that end of the magazine down in order to sort out a nail jam. On the other hand the bolts holding the nose piece to the magazine are easy to access.  There is a momentary delay before firing while the motor winds up, but this is only noticeable in sequential/single fire mode. It motors right along in bump fire shooting about two nails per second.