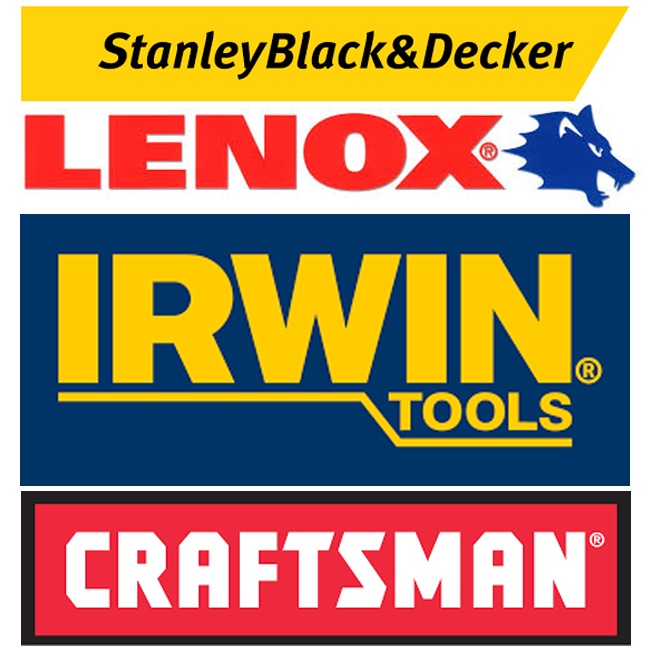 On January 5, 2017 Stanley Black & Decker continued expanding product lines with the purchase of the Sears/Craftsman brand for $900 million USD.
Just last October 2016 Stanley Black & Decker also acquired the Irwin and Lenox tool brands from Newell for $1.95 billion USD.
This is how Stanley Black & Decker announced the acquisition of Craftsman on their Investor Relations site:
An Investment In Organic Growth
Stanley Black & Decker to Purchase Craftsman Brand From Sears Holdings…
• Obtaining Rights To Develop, Manufacture And Sell Craftsman Brand In Non-Sears Retail, Industrial & Online Channels
• Sears To Continue Developing, Sourcing & Selling Craftsman In All Sears Retail Channels Under Perpetual License Agreement
• SBD To Significantly Increase Availability And Innovation Of Craftsman Products And Add Manufacturing In the U.S. To Support Growth • Strong Organic Revenue Growth Potential – To Contribute ~$100M Of Average Annual Revenue Growth Per Year For Approximately Next Ten Years
• Agreement Consists Of $525M Cash Payment At Closing, $250M At End Of Year 3, & Annual Payments Of Between 2.5% And 3.5% On New SBD Craftsman Sales Through Year 15 • EPS Accretion, Excluding Charges – Year 1 ~$0.10-$0.15, Increasing To ~$0.35-$0.45 By Year 5 & ~$0.70-$0.80 By Year 10
Transaction Structured To Minimize On-Going Risks Associated With Sears:
• SBD Assuming No Contractual Credit Risk From Sears Relative To Transaction
• No Tie To Sears Organic Growth Trajectory
• No Incremental Obligation To Supply Sears
…Enhances Company's Rich Brand Portfolio With Addition Of Iconic Craftsman Brand
The Craftsman deal will give Stanley Black & Decker the right to make and sell Craftsman-branded products in non-Sears retail, industrial and online sales channels.
Meanwhile, Sears will continue to develop, source (but not manufacture ??) and sell Craftsman tools. Not sure how that will work. Does Sears have to go to Stanley Black & Decker to get their newly developed tools manufactured?
What about Craftsman's current partners such as Vaughan, Western Forge, Apex Tool Group, TTI and other OEMs? Will they continue to develop and manufacture tools and sell them through Sears?
The way the announcement reads, there could be two separate lines of Craftsman tools sold through two different distribution channels. Presumably, Sears will continue selling through its existing network. Stanley Black & Decker will do the same, so we should see Craftsman products in new retail outlets. Home Depot? Lowes? Industrial dealers?
How will Stanley Black & Decker deal with possible duplication of products with their existing brands? Sell them side by side? Eliminate some of them?
How will Craftsman's lifetime guarantees work? Where will you exchange or service tools?
Lots of questions looking for answers. I guess we will see what happens.