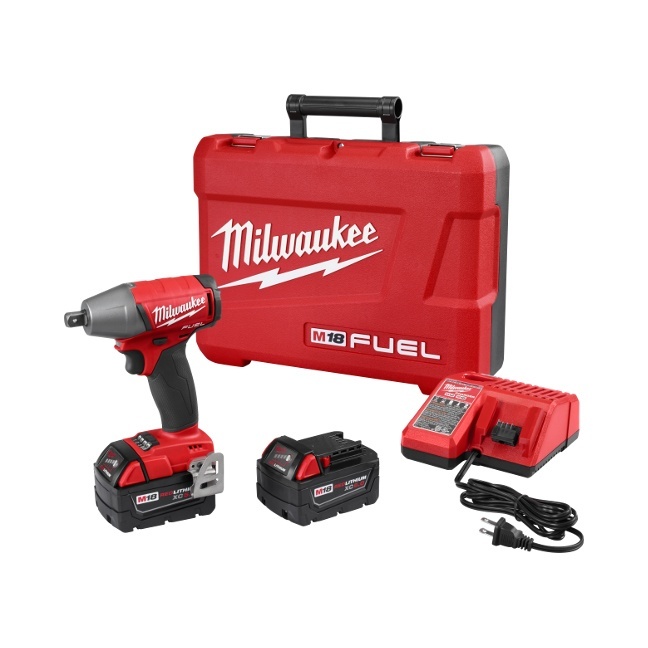 Milwaukee M18 FUEL Gen II Drill/Hammer Drill/Impact
Milwaukee begins its 2015 new product launch with the completely redesigned M18 FUEL Brushless drills, hammer drills and 1/4″ Hex impact wrenches.
The new GEN II M18 FUEL 2703 Drill, 2704 Hammer Drill and 2753 1/4″ Hex impact wrench are upgrades of the the popular 2603, 2604 and 2653 models.
Milwaukee 2703-20 M18 Fuel Drill Driver / Milwaukee 2704 M18 Drill and Hammer Drill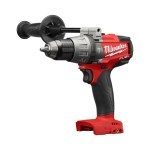 Complete redesign of the motor, gearbox and electronics delivers more power, smaller size in the most durable cordless drill.
Motor is more compact, but 20% more powerful.
1/2″ metal single sleeve ratcheting chuck spindle connection has been beefed up from 1/2″ on the Gen I to 9/16″ on Gen II.
New electronics package handles the increased power and higher heat generated.
The 2704 hammer drill and 2753 impact driver will be packaged together as the new 2897-22 combo kit with 2 5.0Ah batteries to replace the popular 2797-22 combo kit.
Impact driver and wrenches
New Impact Mechanism Design
Reduced wear
Longer life
More peak torque
Shorter front to back
Smaller motor housing (smaller in diameter)
Longer, thinner handle
Faster drive speeds
More control
2753 M18 GEN II FUEL Impact Driver 1/4″ Hex drive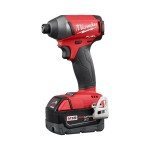 4 Modes: the same 3 modes as on the 2653 plus Self-tapping/drilling screw mode
Mode 4: Controlled start ramps up to 3,000 RPM for reduced walking
Fast drilling at 3,000 RPM maximum speed through the material
Controlled finish slows to 750 RPM to prevent stripping & breaking of fasteners
New M18 GEN II FUEL 3/8″ & 1/2″ Impact Wrenches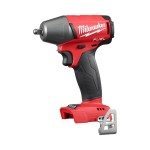 4 Modes: the same 3 modes as on the 2654, 2655 & 2655B Gen I impact wrenches plus Auto Shut-off
Mode 4 – Auto Shut-off: Shuts the tool down after 1 second of impact which prevents overdriving fasteners
Great for applications requiring uniform tightening and end results such as on pipe clamps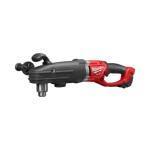 M18 GEN II FUEL SUPER HAWG
Optimized for plumbing rough-in applications
Runs all day on 2 batteries
Corded power in a cordless tool
Uses the same clutch as Milwaukee's corded Hawgs
2 Models with different chucks:
2709: Standard keyed chuck
2711: QUIK LOK chuck that accepts both hex shank and 3-Flat shank bits
2783 M18 GEN II FUEL 4-1/2″ / 5″ Braking Grinder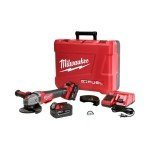 Brake stops rotation in less than 2 seconds – no more runaway grinder when you put it down
No cord to trip over – the most common cause of accidents when using grinders
FIXTEC nut for easy tool-free disc changes – just engage the wheel lock, flip up the flap on the FIXTEC and use it to tighten or loosen the nut
Corded power and durability
2787 M18 GEN II FUEL Mag Drill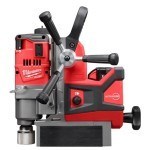 Focused on safety and productivity
Permanent magnet – no battery power required to secure it to the workpiece
Auto Stop Liftoff
Drills up to 40 holes 13/16″ in diameter (standard for 3/4″ bolts) per battery charge
Runs on 5.0 Ah battery
6Ah XC Battery Pack – DELAYED – expected availability approximately September 2016

Same form factor as the other M18 XC REDLITHIUM battery packs, but with longer run time
100% more run time than the 3.0Ah battery
50% more run time than the 4.0Ah battery
20% more run time than the 5.0Ah battery
9Ah High Demand Batteries – DELAYED – expected availability approximately September 2016

Same width as all other M18 battery packs and slightly longer and taller
Delivers more than 2X the run time as a 5.0Ah battery pack
90 minute charging on the new Rapid Charger
48-59-1808 Multi-Voltage Rapid Charger September 2015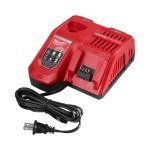 Charges batteries up to 40% faster
Works with both M12 and M18 Li-Ion battery packs
M18 GEN II FUEL SDS Max Rotary Hammer
1-9/16″ capacity
corded performance in a cordless tool
Same motor housing and gearing as the Milwaukee corded SUPER HAWG
Launches with the new 9.0 Ah battery
Provides 20 minutes of chipping on 1 battery charge
2623 M18 3-1/4″ Planer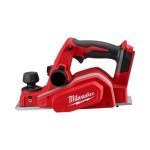 Unmatched power delivers the fastest material removal of any current cordless planer
Depth capacity of up to 5/64″ for fast material removal
New Lighting – available in middle of 4th quarter 2015
TRUEVIEW M18 High Output LED Stand Light
7 ft. overhead light sets up in 5 seconds or less
Provides overhead lighting that minimizes shadows when working
Designed to go head-to-head against halogen work lights – just as bright and much cooler running
2,000 lumens of light output- 30% more than previous Milwaukee floodlights
3 light settings
Up to 4 hours of continuous run time on 4.0Ah Battery packs
TRUEVIEW M18 LED High Performance Flood Light
Competes head on with 500 Watt halogen lights – brighter and cooler running
3,000 lumens of light output plus 30% more brightness with unique reflector and optics technology
Runs on both AC and DC power
TRUEVIEW M12 Spotlight
700 lumens of light output
600 yards of beam distance
Over 3 hours of run time on 4.0Ah battery pack
Compatible with all M12 battery packs
More Hand Tools in the pipeline from Milwaukee:
Milwaukee Cheater Pipe Wrench
Replaces 3 pipe wrenches in your tool box – 2 extra handles and 3 leverage ranges
1. High leverage extension handle – like a 24″ pipe wrench
2. Mid-range leverage extension handle – like a 18″ pipe wrench
3. Low leverage / great access  -like a 10″ pipe wrench
Also Coming
A complete line of pipe wrenches
Chrome-plated adjustable wrenches
Lineman's hand crimper with BG die
6-in-1 Combo plier/wire stripper for NM cable
Mini cutters and swing cutters
Full tang insulation knife
Looks like an exciting new product season from Milwaukee.
Check back through the next weeks and months to find out more as the the new products become available.