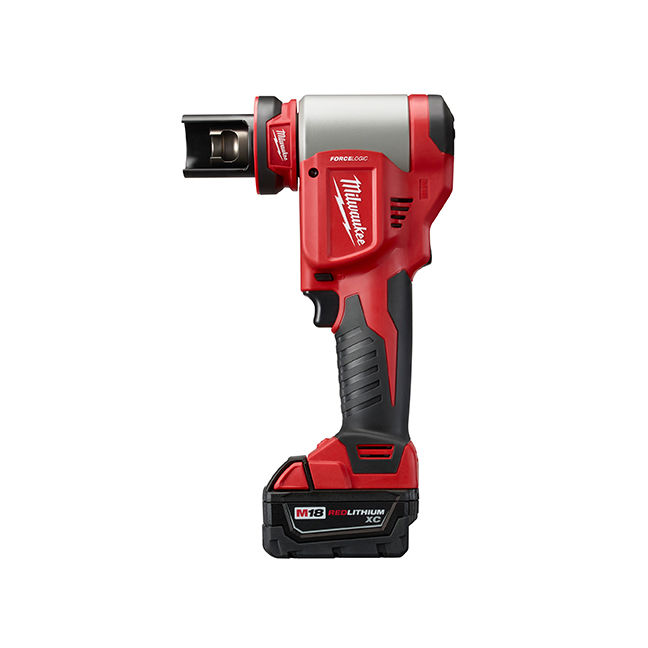 Looks like Milwaukee may have come out with a game changer for the electrical trade.
Milwaukee's Claims: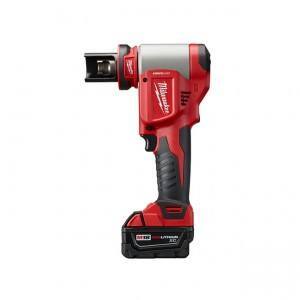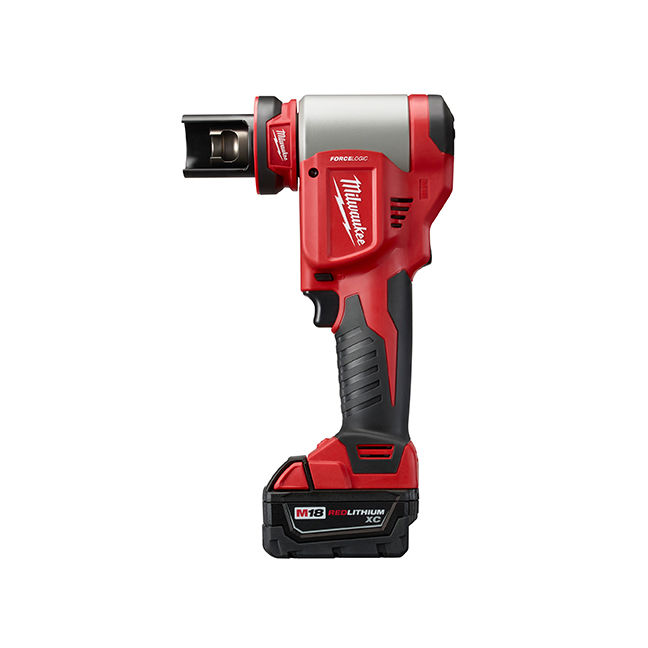 When Milwaukee talked to electricians about what they wanted in a knockout tool for punching holes in electrical panels, they saw an opportunity to redefine the process.  Milwaukee's lithium-ion battery/charger technology and new, more powerful motors allowed the design a more compact power unit.  They designed punches and dies that were easy to identify and required no spacers or adapters, then combined them in a quick connect alignment system that can be set up without hauling the power unit around.  Three lightweight pieces (die, punch and draw stud) can be assembled in place. The power unit is then attached and activated.
Hole Capacity:
Punch holes up to 4″ in both 10 gauge mild steel and 12 gauge stainless steel.
Each punch size punches both mild steel and stainless steel no need for separate punches.
No repetitive pumping as with hydraulic punch systems.
The 2676 Knockout tool out powers competitive cordless units that tend to be underpowered for 4″ holes.
Hole Quality:
Bold highly visible cross-hairs for quicker, more accurate set up.
Milwaukee's quick connect alignment system can be set up without hauling the power unit around
making it easier to set up the punch accurately.
Ease of use:
Easy to recognize the punch sizes.
Quick and easy to assemble the punch, die and draw stud in place and separately from the power unit.
No adapters or spacers are needed.
Punches and dies are designed to minimize jams and and have slug removal ports if a jam does occur.
In summary, compared to existing systems hydraulic systems, Milwaukee seems to have addressed the key issues that  offered opportunities for improvements.
Three Knockout Kits to choose:
What electricians are saying:
(though this is from a Milwaukee video see below)
Early reviews have been favourable with electricians saying they liked the accuracy, speed and power of the new system.
Accuracy and Speed:
Highly visible crosshairs make it easy to line up the punch accurately.
Being able to assemble the punch, die and draw stud separately from the power unit
also makes it easier to line up the punch accurately and enables much faster production.
Power:
The power unit punches 4″ holes as easily as 1/2″ holes.
Overall users find the 2676 Knockout system is more compact, easier and quicker to assemble, and more powerful than the knockout tools they have been using. As a result they find they can punch more holes in electrical panels in less time.
We have customers anxious to give the new tools a go to see if they live up to the hype.
We got to play with a Demo for a few minutes …. I am a complete rookie and a perfect hole in just over a minute.